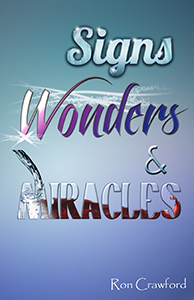 Signs, Wonder & Miracles
Ron Crawford
The world is in desperate need for a demonstration of the miracle power of God. The time is ripe for a true visitation of the signs, wonders and miracles spoken of in the Bible.
How will these manifest?
Will they just begin to happen, or does the church have a measure of responsibility in welcoming the power of God to the earth?
God desires to move powerfully through His church in displaying the signs of His identity and purpose. Wonders will occur in phenomenal ways as the people of God move forward on His behalf. Miracles will be commonplace as the Kingdom of God expands throughout the world. This book is a biblical study of how God wants to use you in the magnificent reality of signs, wonders and miracles.