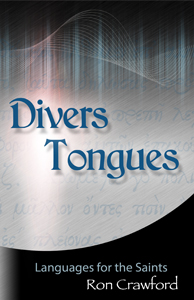 Divers Tongues
Ron Crawford
This is the communication age!
It is now time to upgrade your spiritual languages. God offers you His best in heavenly communications - Divers Tongues!
Communication is the key to victory... especially in the spirit realm! With the Biblical Gift of Divers Tongues, God enhances our capacity to:
Wage spiritual warfare more effectively
Communicate with the angelic
Minister more effectively in dynamic intercession
Commune more intimately with the Heavenly Father.
God's Word will come alive as the Father opens a new realm of insight. Unknown Tongues is a wonderful beginning. Divers Tongues brings us a knowing that is beyond the elemental principles of the Spirit. Every believer needs Divers Tongues.